Incredible image quality with cutting-edge design. The YI 1080p Smart Indoor camera is really best in class. 
24/7 Recording to capture moments in Full HD.

Two-way audio to allow you to receive and transmit audio from any location

Enhanced night vision
Wide Angle/Full HD/Full panorama

With 1080p HD resolution, f/2.0 aperture and 112° wide-angle lens, the camera provides complete coverage in full high definition. With a simple double-tap, you can zoom (up to 4x) and focus on the smallest details. Through an integrated gyroscope support, you can have a complete panoramic view by simply panning your smartphone left and right.

YI Cloud

YI Cloud offers loop-recording with no storage limit, so even if your YI Home Camera is stolen or damaged, your footage will still be secure and accessible on the cloud. Users are guaranteed secure access with financial-industry standard encryption. Save money on Memory Card and try YI Cloud now with one month free trial. Visit our website for more info.

4 Live Camera Feeds

Download the YI Home App PC/Mac client and view up to 4 live camera feeds on one screen, wherever you are. Keep track of what's going on in every room of your house or small business, and feel rest assured that you won't miss a thing.
Advanced Technology
Baby Crying Technology and Night Vision

With advanced algorithms the YI Home Camera 1080p can detect your baby's cry within seconds and automatically sends a notification straight to your smartphone. With the advanced night vision you can see if your baby is sleeping soundly at night, without any LED or infrared glare disturbing them.

Motion Detection

YI Home Camera always keeps an eye on things that are important to you. With built-in high accuracy motion detection technology, the camera sends notifications to your smartphone alerting when, where, and what movement was detected, so you always stay on top of things that matter.

Supercharged Two-Way Audio

The built-in ultra-responsive microphone allows you to have smooth stable conversations through the YI Home App, wherever you are. Intercom mode lets you activate the microphone and speaker, so you can send commands to your pet, or scare off unwanted guests. Hands-free mode allows for a flexible two-way conversation with your loved ones.

Integrated App For All YI Home Cameras

Monitor and control YI Home Camera in one convenient app. Experience a user-friendly, yet powerful and intuitive user interface to customize your settings according to your preferences: Activity Alerts, Camera Sharing, Customize Schedules, and more. Available on iOS and Android.

Dimensions & Weight
Colors
Materials
Video Resolution
Operating Temperature

Dimentions: 7 x 7 x 4 inches
Weight: 9 ounces
Model number: H30 - 8600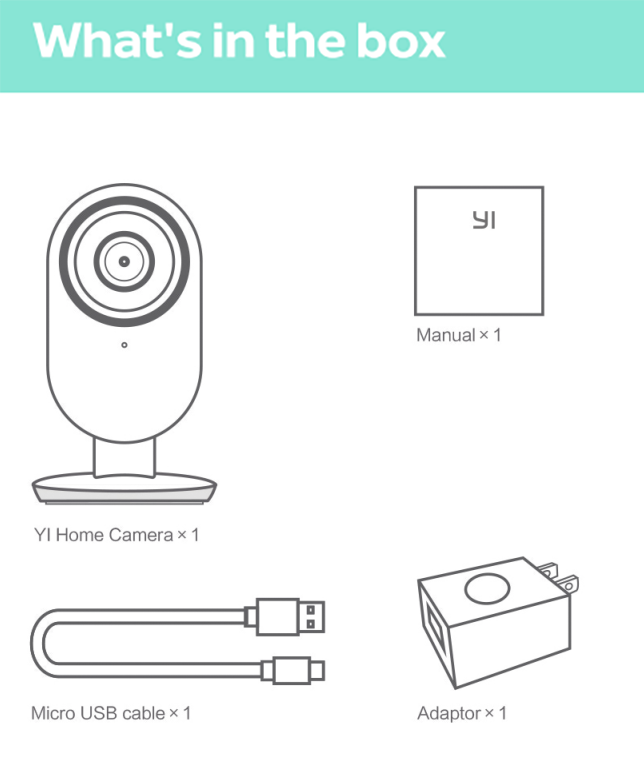 FAQ

Can YI Home Camera be used outdoors?
The YI Home Camera is suitable for temperatures between -10℃~51℃. You can use YI Home Camera outdoors in the right weather conditions and with proper protection. However, please don't put the camera in wet weather (rain or snow) since the camera is not waterproof.
How do I obtain full coverage of a room?
Typically, a home camera is placed in the corner of a room where it can optimize the view angle. We recommend having at least two cameras to fully cover a large space, such as a living room. To completely monitor your home, users can add cameras in every room for a full home monitoring system.

I'm on a 5GHz network. Can I still use the camera?
The YI Home camera is only compatible on a 2.4GHz band network. 5GHz networks are not supported.
All routers have a 2.4GHz band network available and most routers are dual-band, meaning they have both a 2.4GHz and 5Ghz band network. Many routers have both bands available simultaneously, meaning you can see two network names for your router. Check your Wi-Fi settings to see if you have 2 networks available. The 5GHz network name will typically end in a 5, while the 2.4GHz network might end in 2 but it may not be indicated in the name.
If you need additional help, contact your internet service provider for assistance on connecting to your 2.4GHz band network.

How many YI Home Cameras can connect to one account?
We recommend having no more than 12 cameras connected to single Wi-Fi network to ensure the best connection.
Each camera requires sufficient bandwidth to stay connected and will occupy approximately 0.5Mbps upload bandwidth.
Each camera under your account can be paired to the same or a different network.
Each camera can be paired to only 1 account at a time.
YI Home Camera 1080p reviews